Address:
Alton
,
IL
,
62002
38° 54' 21.8232" N, 90° 11' 1.1148" W
What our organization offers:
Seasons in which we offer activities (select "All seasons" for all):
Ages for which our activities are most appropriate:
Located in Alton, IL, McPike Mansion sits atop Mount Lookout Park, the highest point in Alton. The McPike Mansion has a history of paranormal occurrences, and is known for its hauntings. Tours offered year-round and 2 campouts held per year.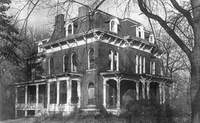 MCPIKE MANSION - BUILT IN 1869

by Architect

Lucas Pfeiffenberger

Listed on the National Register of Historic Places

The house was built in 1869 by architect Lucas Pfeiffenberger.  Original owner of the Mansion was Henry Guest McPike.  The McPike family owned 15 acres of land, then known as Mount Lookout Park.  Here McPike, a horticulturist, perfected his McPike Grape.  The family lived in this, their country home, until 1936.

The house has changed hands several times since its original owner Henry McPike.  The building has been home to Browns Business College and was later owned by Paul Laichinger, who rented rooms in the house to other occupants.

The house has not been occupied since the 1950's.  Before weather and vandals brought extensive damage to the structure, it was a regal addition to the Illinois town of Alton.

The mansion featured 11 marble fireplaces and beautifully carved stairway banisters, all of which have been stolen during its abandonment. Intricate carved trim still border the ceiling in one of the front rooms.

McPike Mansion today is owned by Sharyn and George Luedke who have been trying to nurture this great house back to its regal state.  It is readily known today for its hauntings in paranormal circles. The grounds are often visited by ghost hunters and
haunted tour
groups
in the area.

It is not uncommon to find in photos of the mansion, orbs, balls of light, even figures appearing in the windows that were not seen by the human eye when the photo was taken.

This Grand Ole House is thought to still house many of the spirits that once lived here.  Many Psychics and Mediums have felt the presence of what they believe to be McPike family, servants, as well as some of those who resided in and owned the house since 1936.

The Cellar has been a focal point of many energies felt in the mansion.

We invite you to take a virtual tour of the house and the grounds.  For those braver we extend the invitation to join us at one of the scheduled events held at the mansion and experience the phenomena of the house and grounds.


Organization learning resources